Zimbalooba JUNGLE Baloo
(ch.CHILOLO SX ICE ON FIRE x ch.KALIMBAH ETERNAL FLAME)
Austraiian import in France. Wonderful pedigree - generations of Australian champions: a dynasty of great sound Ridgebacks with wonderful temperaments.
Litter expected- Portée attendue
NEWS              LITTER EXPECTED -- PORTEE ATTENDUE
ZIMBALOOBA JUNGLE BALOO    x   AMAZULU  HZENAAT LIONESS   (Fr. Ch. Elangeni Lion OutOf Africa  x  Fr. Ch. Amazulu Eyennenga)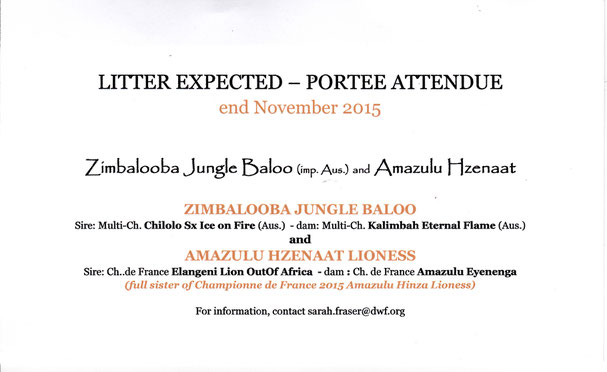 PEDIGREE OF POTENTIAL OFFSPRING: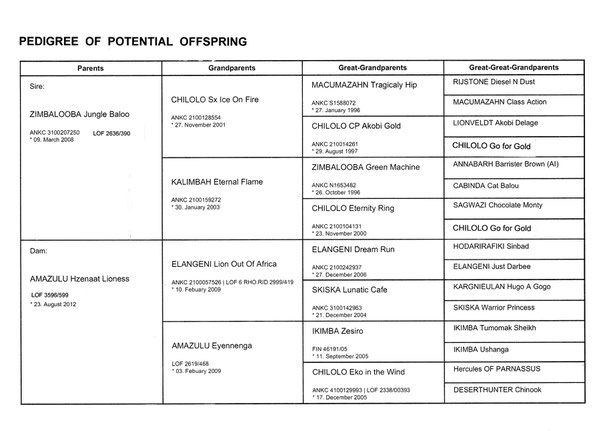 JUNGLE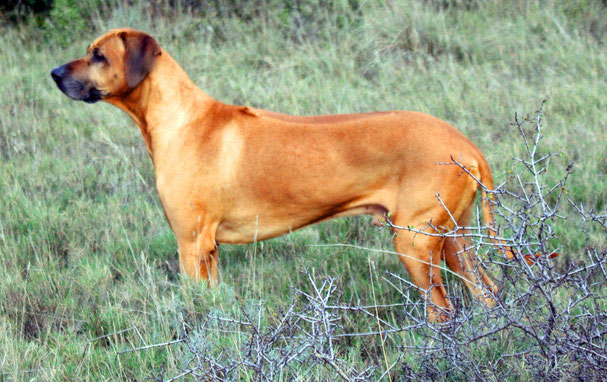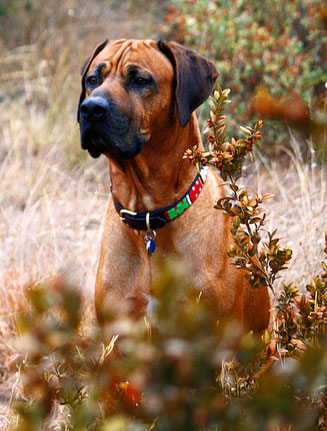 AUSTRALIAN-BRED  RIDGEBACK AT STUD  IN FRANCE EUROPE
ZIMBALOOBA JUNGLE BALOO
(champion CHILOLO SX ICE ON FIRE x champion KALIMBAH ETERNAL FLAME) 
Jungle's wonderful pedigree offers a source of enviable bloodlines in Europe (Australian, Chilolo etc.) as well as his truly wonderful temperament, for which he is widely renowned and  loved by all who meet him. See his pedigree.
Bred in Australia (9 March 2008) by Darel Mills, he was imported to FRANCE by Anne-Marie Marenco, Amazulu Kennel. Since 2011 Jungle has lived with Sarah Fraser in Provence, France, with whom he enjoys a life of variety and activity.
JUNGLE is a CONFIRMED (Evaluation 2) STUD DOG 
He has been very, very rarely shown 
For several years, he ihas been the breed ambassador at the "Village of Breeds" at international championship shows in France.

He is at stud to approved bitches.  
Most often described as "magnificent", Jungle is red wheaten, a lovely free mover, with a beautiful ridge. His X-rays are excellent. DM gene free (not a DM carrier). He has his TAN.  
ETALON confirmé -- lineage des GRANDS CHAMPIONS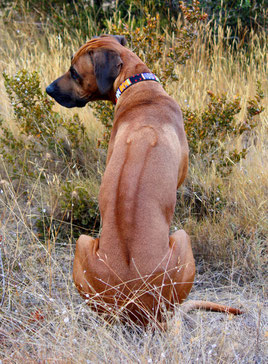 NE EN AUSTRALIE,  ELEVAGE ZIMBALOOBA; SES

PARENTS, GRAND-PARENTS, et SON PEDIGREE est chargés des très GRANDS CHAMPIONS.
CHIEN DE CRETE DORSAL  RR
JUNGLE a un pédigrée marveilleux avec les lignées  des champions Australiens (Chilolo, etc.) et les origines Sud-Africaines (Shangara, Glenaholm) et de Rhodesie (Mushana);  il a un superbe tempérament, lequel il est plus de bien connue. 
Jungle est né en Australie le 9 mars 2008 (Zimbalooba Kennel de Mr et Mme Darrel Mills), et il est arrivé chez Anne-Marie Marenco, Amazulu Kennel, le Côte d'Azur, à l'age de 6 mois. 
Maintenant il vit avec Sarah Fraser dans un petit village dans Les Alpilles, Provence, et ce gentil chien est très content chez elle -- mais il vient Anne-Marie voir souvent!
JUNGLE : un ETALON CONFIRME, Cotation 2, 
Red wheaten, avec un très beau ridge. (Voir ses Radios  excellents!). Il n'est pas porteur de DM gène. 

Il a son TAN: 96 pts. 

Jungle est souvent l'ambassadeur invité du Rhodesian Ridgeback à les expositions canines nationales/internationales présentants les « Village des Races »
UNE PETITE NOTE - 
Ce très gentil chien Jungle est venu à habiter avec Sarah Fraser en 2011 dans un petit village dans les Alpilles, Provence, France. Sarah Fraser est avec les Ridgeback dépuis 1982, et elle est tellement reconnaissante d'Anne-Marie Marenco (élevage Rhodesian Ridgeback Amazulu Kennel, Cote d'Azur) pour sa confiance ! Jungle est un ange.

Membre de Rhodesian Ridgeback Club de France. 

A LITTLE NOTE--

This most charming of dogs, Jungle, came to live with Sarah Fraser in 2011  in a small village in Les Alpilles, Provence, France. Sarah Fraser has been with Ridgebacks since 1982; she is enormously appreciative of Rhodesian Ridgeback breeder Anne-Marie Marenco, Amazulu Kennel, Cote d'Azur, for her great confidence !

Member of the Rhodesian Ridgeback Club de France.